Be Kind, Reach Out, Coorie In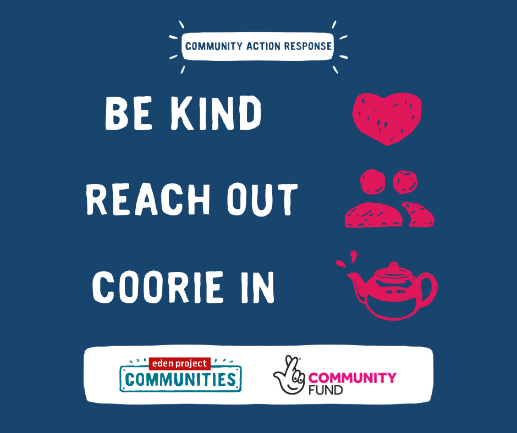 Community Action Response are encouraging communities to Be Kind, Reach Out and Coorie In.
Launched by Eden Project Communities with partners The National Lottery Community Fund, Nextdoor, Neighbourhood Watch, Campaign to End Loneliness and Eco Attractions Group, the Community Action Response has been created because of the unprecedented challenge that Coronavirus presents for people in every neighbourhood in the UK. The organisations are calling for everyone to take steps that will help communities cope when the worst impacts of the virus hit. The Be Kind, Reach Out, Coorie In campaign encourages communities to be kind this winter. Here are five suggestions of things you can do.
1. Think of others, consider your actions & be kind: People in every community will face the challenges of Covid-19 in some way – from needing basic provisions to help while they are unwell.
2. Connect and reach out to your neighbours: as self-isolation increases, we need to find new ways to stay connected and check in on one another for our physical and mental wellbeing. Share phone numbers and stay in touch.
3. Make the most of local online groups: Keep up to date, share information and be a positive part of your local community conversations using platforms like Nextdoor.
4. Support vulnerable or isolated people: different groups in our communities are at increased risk and social isolation and loneliness are key concerns for all ages. There are things you can do like volunteering for local support services or donating to food banks to help.
5. Share accurate information and advice: Support anyone who may be anxious about Covid-19. Sign post them to the correct advice from Public Health England and encourage people to follow the correct hygiene practices.